Glenaniff & Barr Climbs

Ask any road cyclist in Leitrim which climbs strike fear into them, and these will be the hills they name. These climbs are not for the faint-hearted so be sure you are trained and fit or that you have a super granny gear before you try them! As ever the rewards for hard work are great as the views on and from these climbs are simply stunning. The road surfaces are fairly good but descend carefully in case you encounter gravel or the odd stray sheep.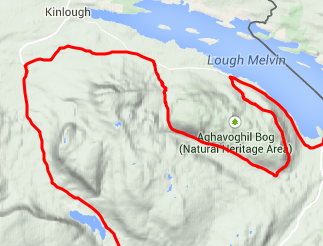 Glenaniff climb is in the centre of the map. Take the Lough Melvin shore road from Kinlough and about 1km after the first long drag turn right. This takes you up the switchback side of the Glenaniff Climb (3km, av 8%, max 20%, gain 230m). Focus on the mobile mast - once you reach this you are nearly at the top. From the south side the climb is shorter (1.3km, av 9%, max 22%, gain 115m) but is approached through a very long drag up Glenaniff valley. This climb is called The Gates of Glan and features gorgeous views of mountains, lakes and the ocean.
The Barr Climb also has two sides, with the northern side being more difficult (3km, av 6%, max 16%, gain 200m). On the map it starts at the sharp turn on the Rossinver side of the Lough Melvin shore road. From the south the climb starts midway up Glenaniff valley (3km, av 4%, max 16%, gain 120m). Both climbs reach a short plateau with an incredible view of the lake below.
Fowley's Falls is a series of waterfalls that runs along a length of river in Glenaniff valley. It is very close to the start of the Barr climb's southern end and is well worth a look. If you have suitable footwear there is a forest trail that runs alongside 500m of the waterfalls which you should check out.