Barrawishlaun & Eagle's Rock

This route takes you through the picturesque village of Lurganboy and on up over a hill known as Barrawishlaun (printed as Barrnacaislean on many maps). The road is mostly sealed but there are a few heavy gravel sections once you reach the summit so descend with caution. On reaching Glenade valley a series of back roads takes you high along the valley edge to a geological feature known as Eagle's Rock. From there you head back to the main Kinlough road and back towards Manorhamiton.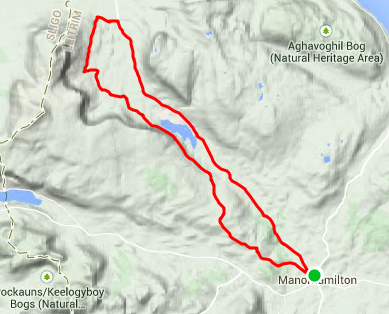 From Manorhamilton head for Lurganboy. At the top of the village turn right for the quarry. 500m after the quarry turn up to the right for Barrawishlaun. Descend with caution and give way at the junction at the bottom of the hill. Turn left and bear left at junctions until you are past Glenade Lake, then keep turning left until you reach the car park for Eagle's Rock. From here you can cycle or walk part of the way up the mountain if you wish. Alternatively keep on the road and take a right turn and then a left to bring you back to the main Kinlough road. Turn right and head back to Manorhamilton.