Up Past Creevelea Ironworks

Creevelea Ironworks date from the 1850s, and although not much remains there is one fine furnace building standing in a field close to a back road. Follow the road high into the mountain and a gravel track takes you above the forestry for fine views of Belhavel Lough, Lough Allen and the surrounding hills.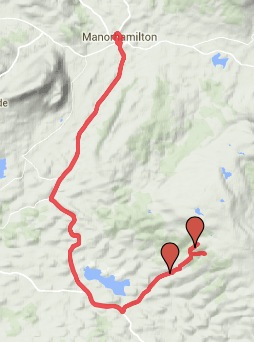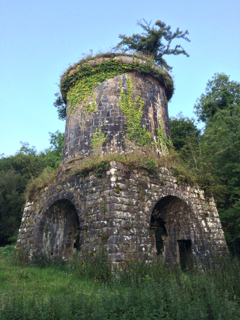 From Manorhamilton, head south towards Drumkeerin. After 16km turn left for Creevelea Church. When you reach the church (2km), turn left and then immediately right. From here the road goes straight up in to the side of Boleybrack Mountain. 1km after the church the furnace tower is clearly visible on the left, and is accessible by foot across a grassy field. Continuing up the mountain, the gradient soon becomes steep and the surface too rough for road bikes. Mountain bikers can continue up to an elevation of 308m, with the grade varying from around 10% to 16%.